Mac OS 9
To connect your Mac OS 9 computer up to Shoalnet, follow the instructions below.
Click on the Apple menu, followed by Control Panels then TCP/IP or Internet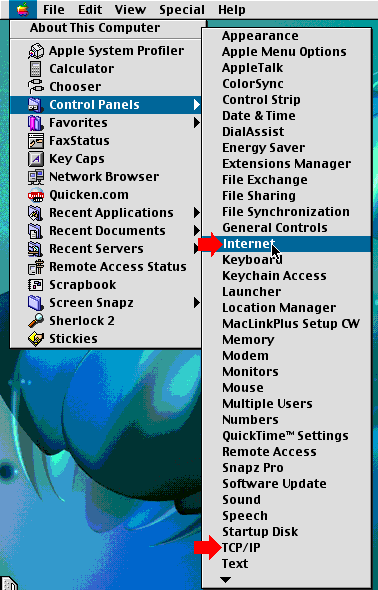 This should open a screen similar to below.
Fill out the details as per the screen below
NOTE:
Name Server addr:

203.194.27.57
203.194.56.150

Search Domains:
shoal.net.au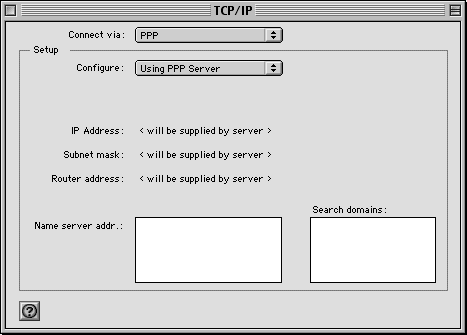 Once these settings are complete, close the window and Save the changes
Click on the Apple Menu again, then click on Remote Access.
This will open a screen similar to the one below.

Fill out per the following:
Remember, your Name needs to be your FULL Shoalnet email address
Password, type in your password. Note: Your password is CAsE SeNsiTivE
The Phone number required is as follows 0198333965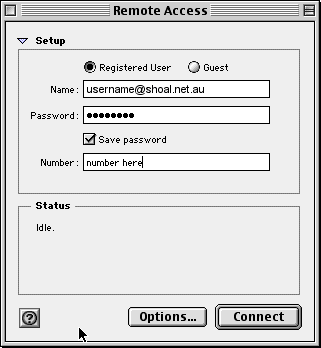 When completed, close the Window and save any changes
You should now be able to connect up to the internet by using the Control Strip at the bottom, or by going directly into Remote Access through Control Panels from the Apple menu.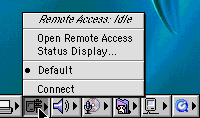 If you have any problems, give Shoalnet Techsupport a call on (02) 4423 7100 or 1300 666 556