Internet Explorer
Internet Explorer comes pre-installed on all Windows computers running Windows 98 or higher. You should be running the latest Internet Explorer Version 6 or else some websites, eg Bank Sites will not load correctly.
(To check what version you are running, Open up Internet Explorer, click on the Help menu then click on About Internet Explorer)

If your computer has Windows 98 Second Edition or higher, you will already have Internet Explorer 5 or 6.
You can update Internet Explorer by getting a copy of the Shoalnet Setup CD, and running the Installation from the disk (Please refer to your disk for further help) or by downloading from the Microsoft Website (this might take several hours on a dialup connection).
Double click on the Internet Explorer icon on the desktop.

Click on the Tools menu, then Internet Options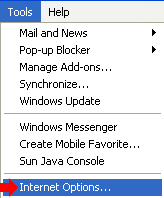 On the General tab:

The address listed in the Address field will be the webpage that Internet Explorer will open upon starting. This will usually be set to the Shoalnet Homepage (i.e. http://www.shoal.net.au), although you can change this to your own personal preference eg Sydney Morning Herald Homepage http://www.smh.com.au or Google http://www.google.com.au
The Temporary Internet Files section is where you can clear Cookies and Temporary Files that have been stored on your hard disk drive after you have visited websites. To clear the Cookies or Temporary Files, click on Delete Cookies and Delete Files then OK to the box that pops up asking to confirm.

This page also contains the History settings.
Whatever number of days you specify in here will be the number of days that Internet Explorer will keep track of the pages you have visited . You can erase this history at any time by clicking on the Clear History button.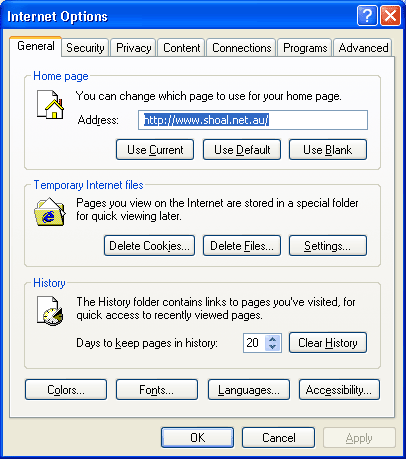 Next, click up on the Connections tab at the top.
This screen contains the Connection Settings. You should have Shoalnet set to be the default connection, and it should be set to "Always Dial my default connection". You can make Shoalnet the default by clicking on it once so that it is highlighted, and then click the button labelled "Set Default".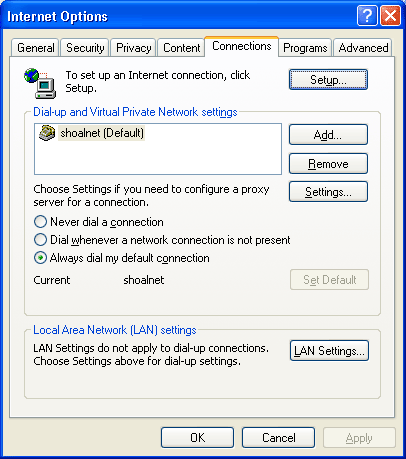 Clicking the Settings button.
This section should be filled out similar to the one below.
There should NOT be a tick in "Use automatic configuration script" or "Use a proxy server for this connection"
The username needs to be your FULL Shoalnet Email address
Leave Domain BLANK.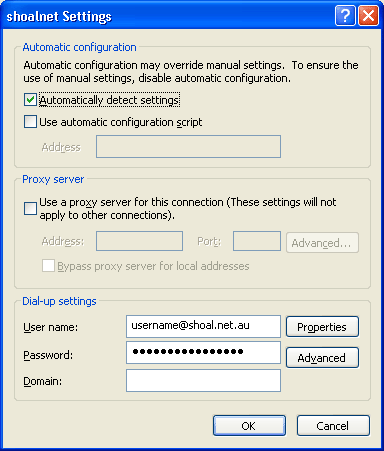 Click on the Advanced button.

This section can be used to automatically disconnect your computer from the internet after an idle period. It is recommended that you DO NOT use these options as they tend to cause problems with disconnecting when it should not.