Spybot Search & Destroy Walkthrough
How to Use Spybot - Search & Destroy
Double click on the Spybot - Search & Destroy icon, which should be located on your desktop.



You will now see a dialog box that says Legal Stuff
If you dont want to see this box each time you open Spybot, put a tick in the box Don't show this message again
Then click OK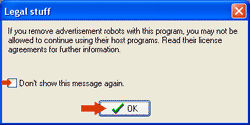 To update Spybot, click on the Update button on the left hand side of the screen, then click on Search for Updates at the top of the screen.
If any updates are found, they will be listed on the bottom half of the screen.
Right click on the name of one of the updates, then click Select All
Click on Download Updates on the top right hand side of the screen
**Note** You need to be connected to the internet to do the update.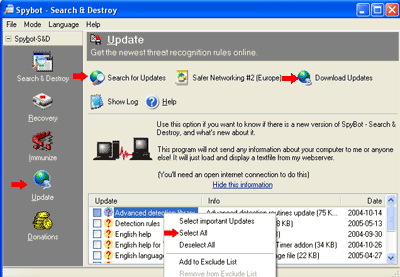 To start the scan, click on the Search & Destroy icon on the left hand side of the screen, then click on Check for problems
This will now start the Spybot scan.

Note: The scan can take as little as a few minutes to several hours to do the scan. This is due to hard drive size, problems, age of your computer etc.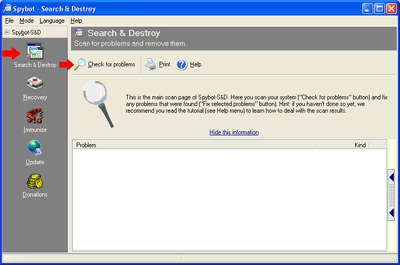 Once the scan has completed, you will see the results at the bottom of the screen.
To remove the Spyware found, click on Fix selected problems at the top of the screen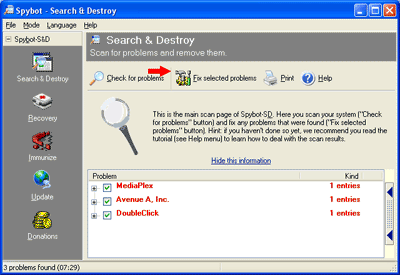 If you have Windows ME or Windows XP install, Spybot will automatically create a System Restore Point.
This window will automatically disappear when it has finished creating the restore point.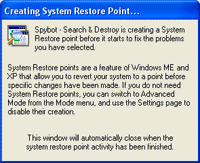 You should now see the Delete Confirmation box. Click on Yes to remove the objects selected.

Once all the objects have been removed, click on the OK button.

You can now close the program
We recommend that you run the Spybot scan every week.