Products & Services
On the left section of this page, you will find links to Products & Services Shoalnet/Fastrac provide.
Interested in a Domain?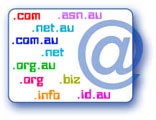 Having a Domain Name allows you to create an individual presence on the Internet for your business. Your e-mail addresses will reflect your business name, instead of your Internet Service Providers and will make it easy for your customers to find you on the Internet.
Having a Domain Name gives your business a more professional look that can be reflected in all your stationery and advertising material. Staff e-mail addresses can also reflect your business image, e.g. maryjane@mybusiness.com.au. Your Domain Name is portable when changing account types and Internet Service Providers, which means you never have to change your e-mail address.
For more information Click Here or call us on 44225014